Previous News Updates
March Update
On Thursday 21st March, we're delighted to welcome Professor Michelle Brown to the library for a local history talk. This should make for a very interesting evening, and hopefully we'll all learn something new about out lovely town and the surrounding area.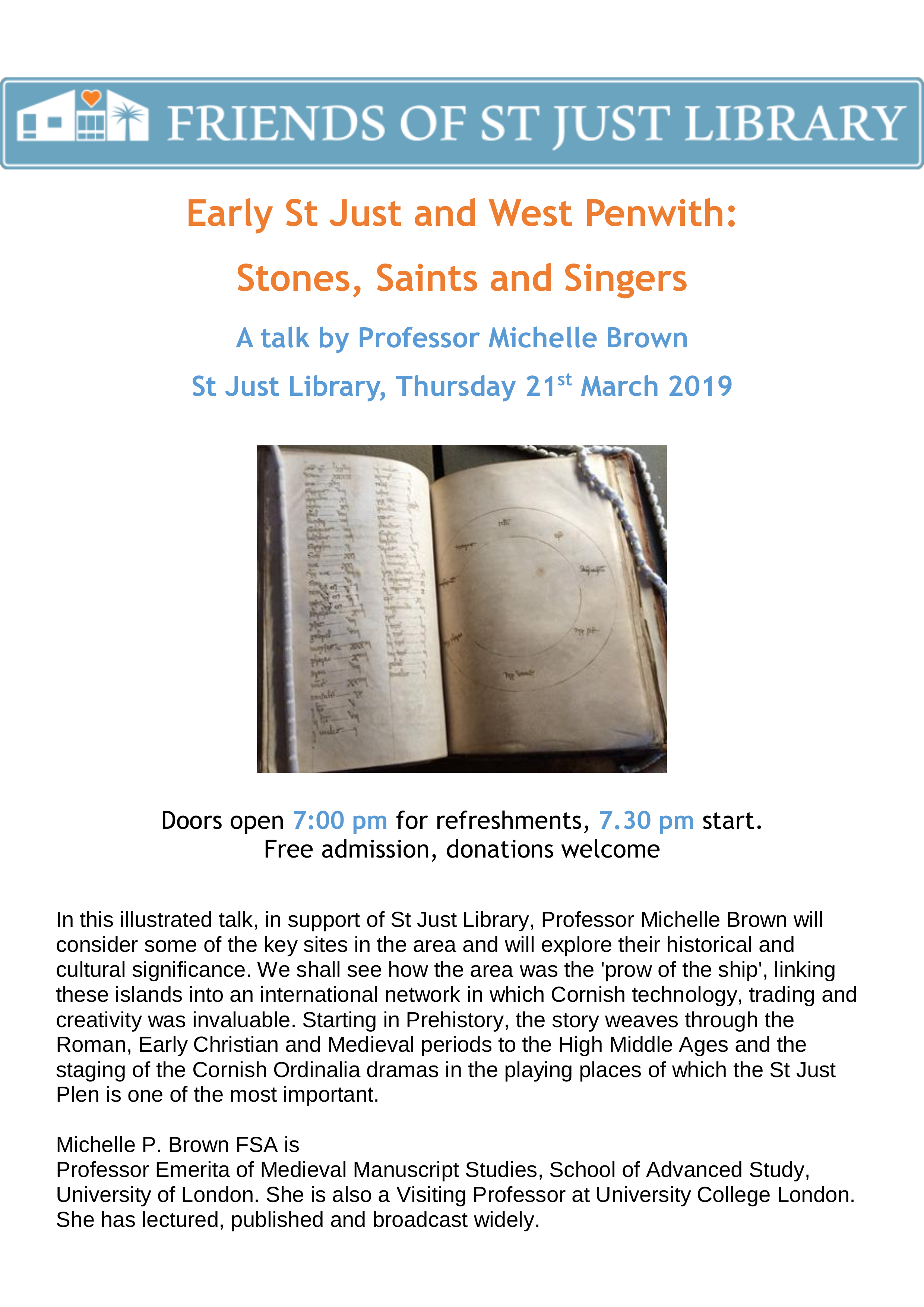 Two weeks later, on Thursday 4th April, we have Patrick Gale launching his latest paperback at the library, with plenty of opportunities for questions from the audience. We envisage this being a very well attended event, so as space is limited you can ensure you get a ticket in advance from the library. Tickets are free, but, as with all our library events, donations on the evening are very welcome!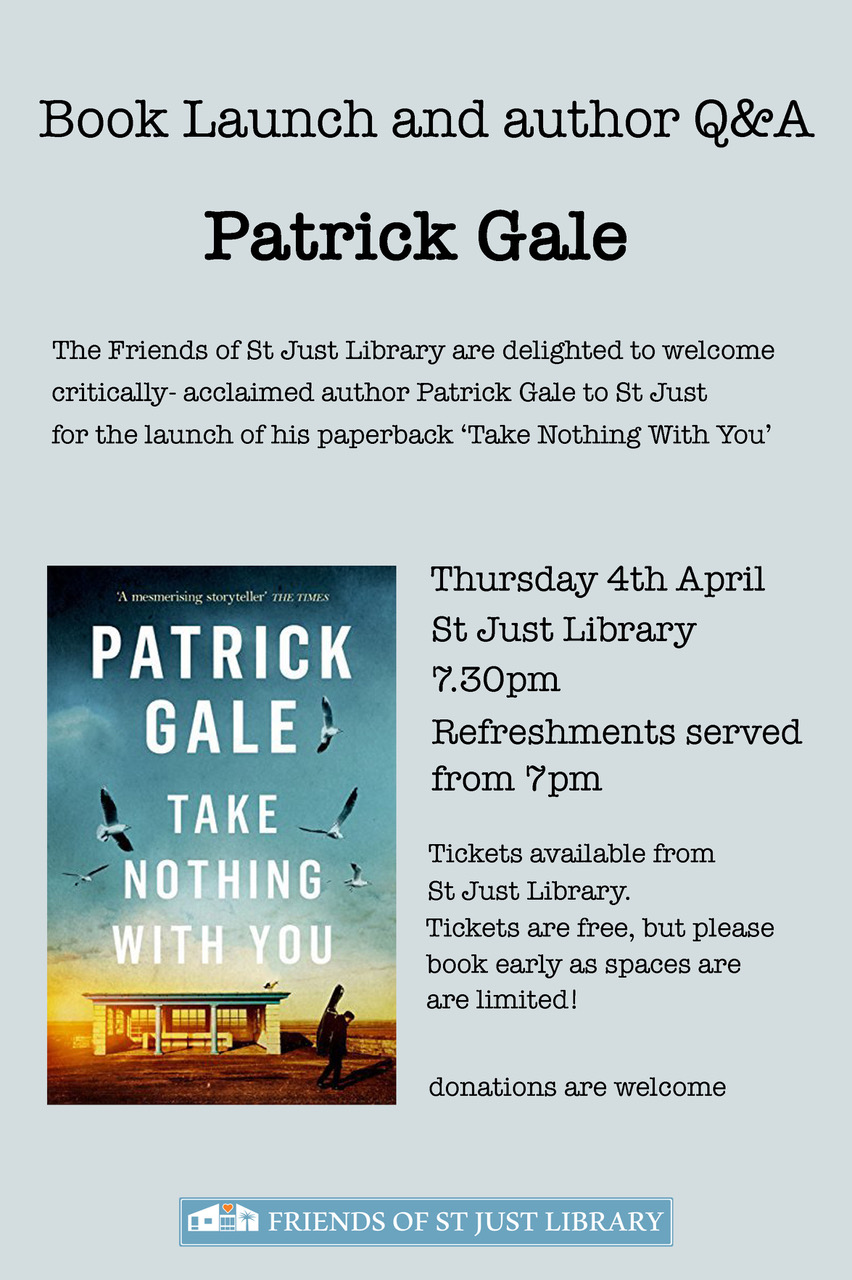 Late February 2019 update
Sue Ellery-Hill gave us an entertaining talk "Am I a writer?" last Thursday, at the library. She told us how her Cornish family and background of story-telling gave her an interest in books and words, leading to her producing her own work, including her recent biography of her mother, singer Brenda Wootton. She illustrated her talk by examples of authentic tales told to her by her grandfather and father, as well as extracts from her writing. Another enjoyable evening provided by a local author!
Story Competition
We're delighted to announce that we're launching a short story competition in association with Lafrowda, to link in with the 2019 Lafrowda Festival theme "Off the Page".
By short, we really mean short, with a word limit of 200 words, and there are four age categories running from under 7's to adult — so no excuses not to have a go!
The deadline is the 24th May 2019. For more information see our Story Competition information page.
February 2019 Update
Many thanks to Abigail Reynolds for her wonderful talk 'Lost Libraries', last month, and to everyone who attended. It felt so poignant to listen to her riveting tales of her visits to these distant lost libraries while sitting in the comfort of our own lovely library.
Our next talk is on Thursday 21st February by Sue Ellery-Hill, who will give us a talk titled "Am I a writer yet?" at St Just Library. Doors 7:00 pm for 7:30 start.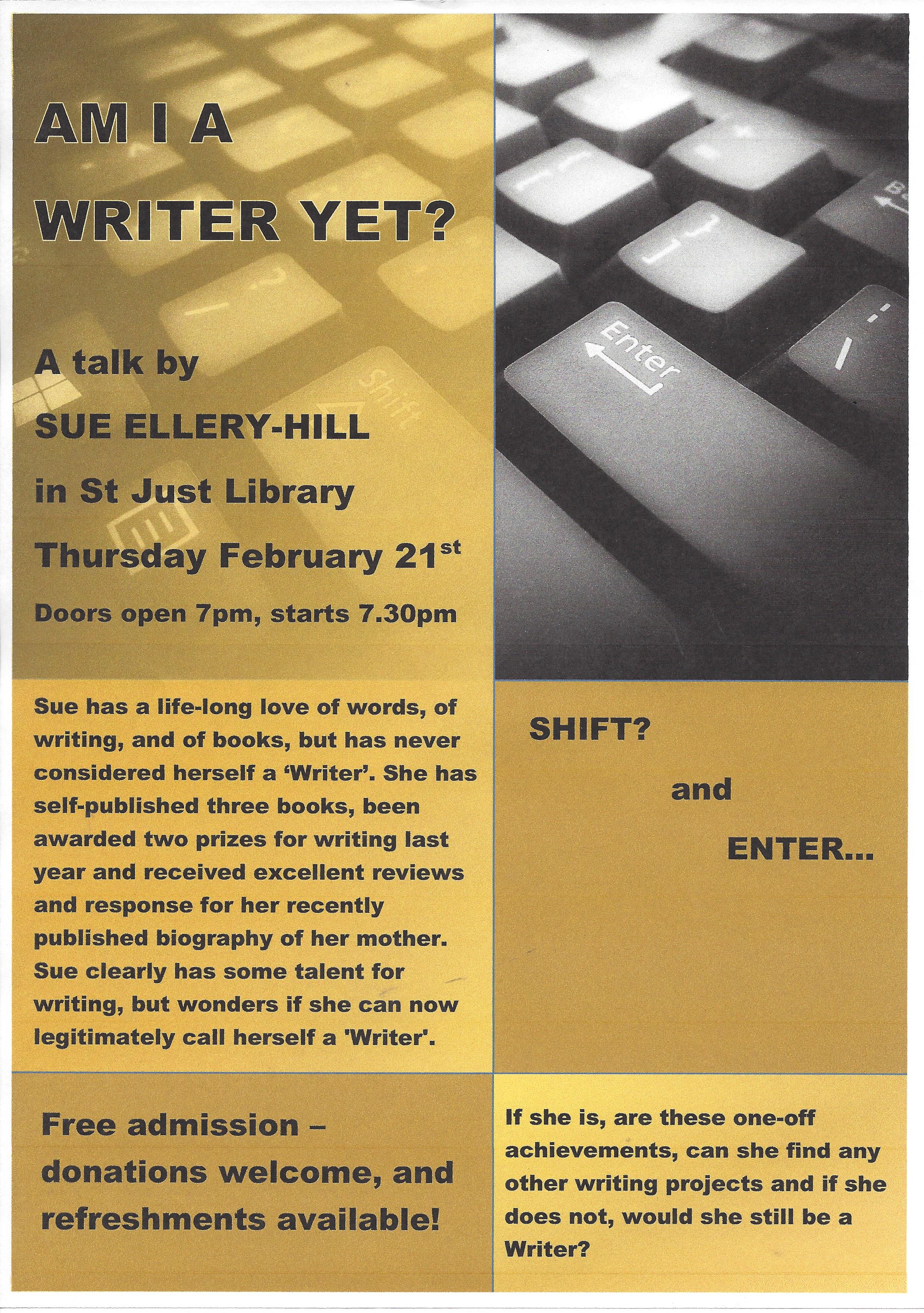 Refreshments will be available and admission is by donation.
We also have two more dates for your diary:
21st March:

Professor Michelle Brown will give and illustrated talk "Early St Just and West Penwith: Stones, Saints and Singers".

4th April:

Patrick Gale will be holding a launch event for the paperback of 'Take Nothing With You' at the library. Patrick will talk to us, take questions and sign books. More details to follow.
Story Competition
Watch out for details of our story writing competition, coming very soon. This will be open to children and adults and run from February to May with prizes to be awarded in July.
January 2019 Update
Happy New Year to all the library supporters!
We have many wonderful library events planned for 2019.
The first, coming up on 24th January, is a talk by St Just based artist Abigail Reynolds, about her project "Lost Libraries of the Silk Road" a five-month journey to fifteen sites of libraries along the Silk Road, that have been lost to political conflict, natural catastrophe, revolution, and war. This should be a really fascinating talk, particularly appropriate given the uncertainty surrounding our own library. Details on the attached poster.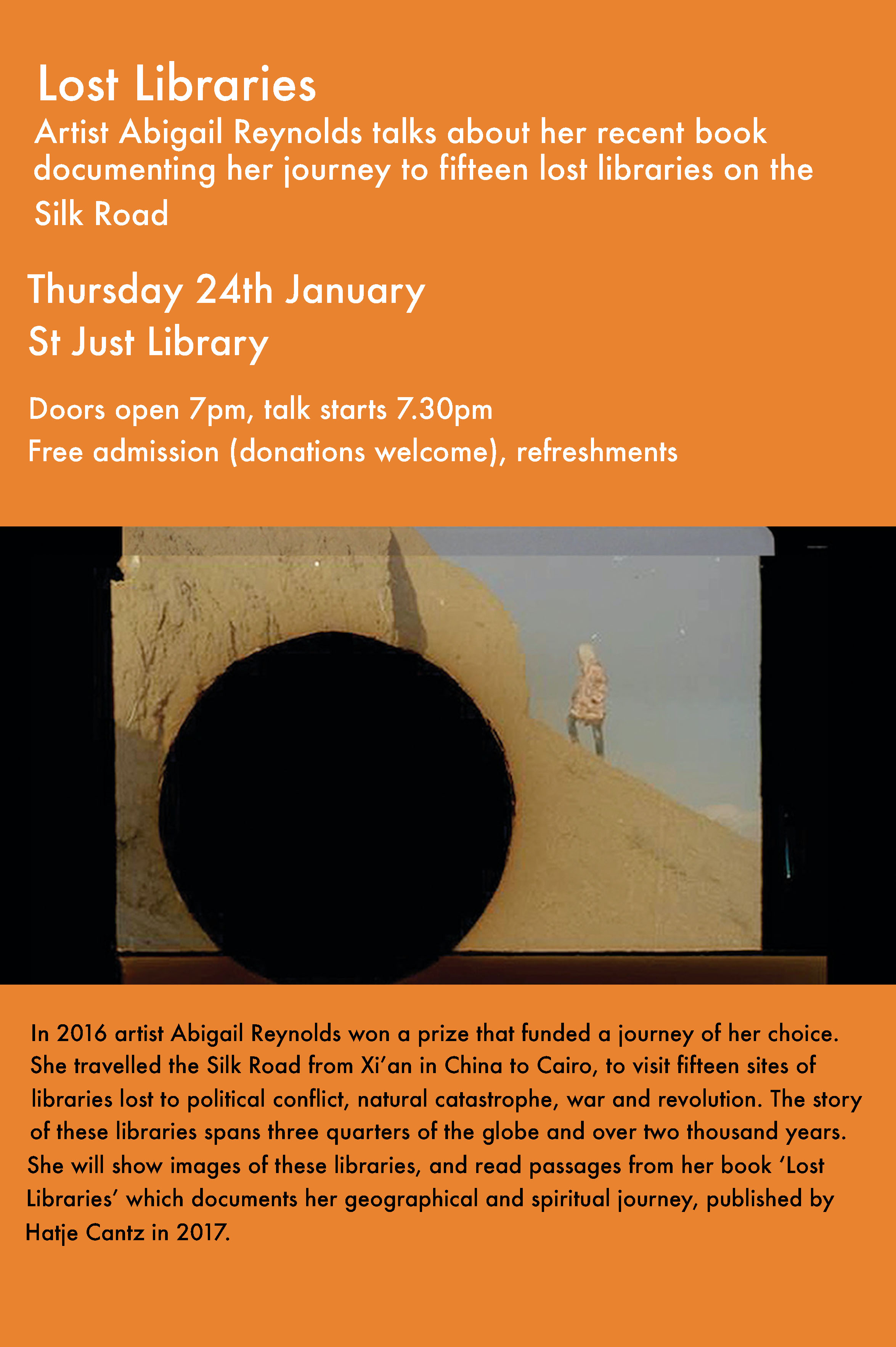 On 4th April, Patrick Gale will be holding a launch event for the paperback of "Take Nothing With You" at the library, details of this and a number of other talks and events we have in preparation will be posted nearer the time.
In terms of progress with the devolution of the library, we are still hopeful that the Town Council will move into the library building, enabling the library's future to be secured. There continue to be many hurdles before this can happen, but things seem to be moving in an encouraging direction. Hopefully an agreement will be made in the next few months.
Hope to see you on the 24th!
October 2018 Update
In September we enjoyed another fantastic author talk, this time it was fiction writer Teresa Benison talking about how she has drawn on her own experiences, and those of her family, within the books she writes. Thank you Teresa for a thought provoking talk!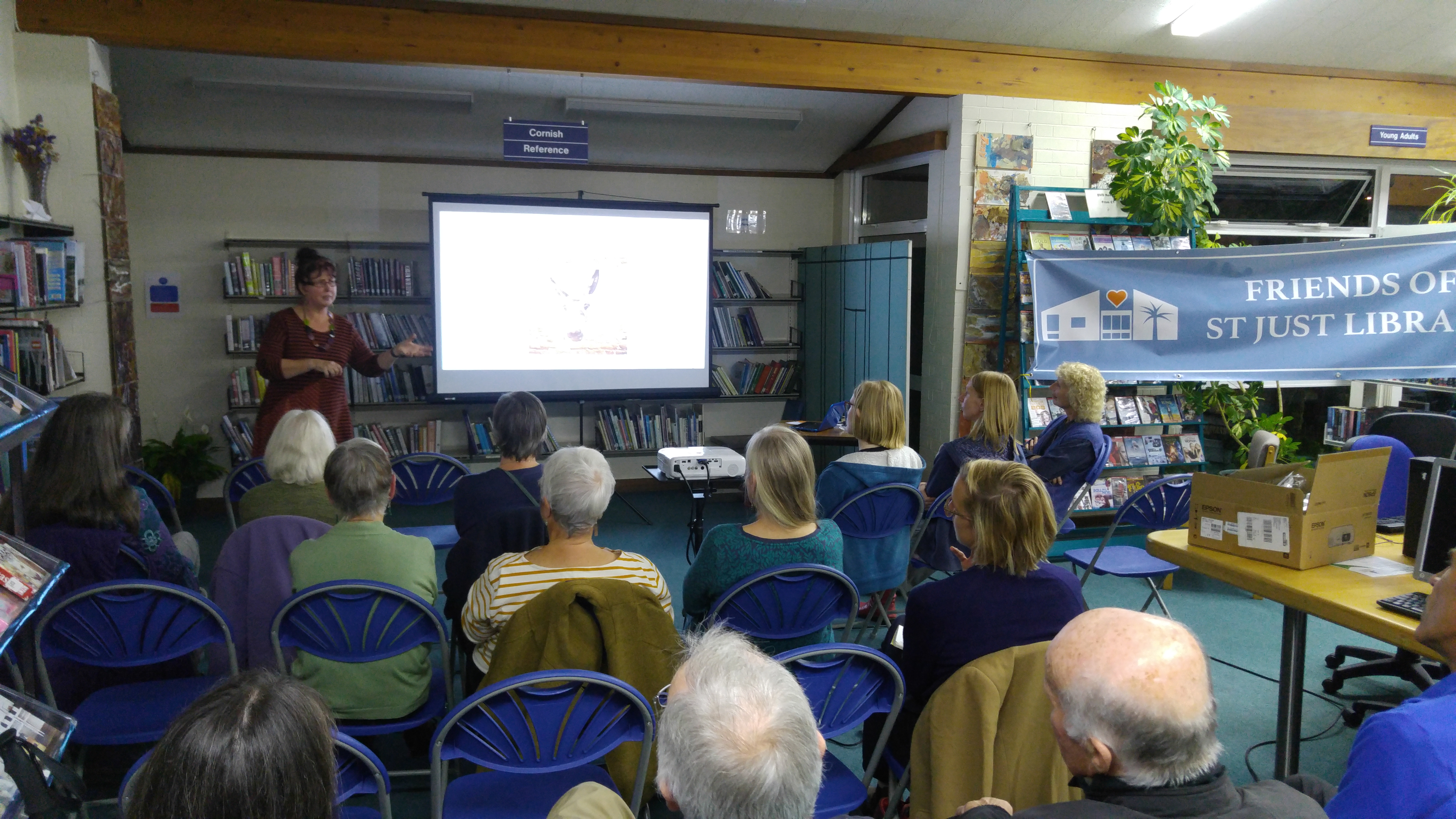 Our next library event is something a little bit different, which we hope will make for a really enjoyable evening, our first ever book quiz! A bit like a pub quiz, but with a literary bent (but don't worry — not too serious!). This will be on Thursday, 15th November, at the library. Arrive 7pm for a 7:15 start, with an interval for refreshments. Ideally we'd like teams of four, but we can definitely sort teams out on the night, so don't worry if it's just one or two of you. Quiz entry is £1.50 per person, with a small prize for the winners. Please let us know in advance if you're able (to help us in our planning) on 01736 787070, but it's equally fine to just turn up on the night.
September 2018 Update
Firstly an update on the library situation. At the Town Council meeting on the 3rd of September the Council allowed members of the public to ask questions and express opinions about the plan to move the Town Council to the current library and run both the TC and the library from the same building. Later in the meeting, after discussion amongst the council, the Town Council unanimously voted to proceed with this plan, which in the first instance requires them to submit their business case to Cornwall Council. The condition of the roof is probably the biggest potential stumbling block, but presuming that making the roof sound isn't prohibitively expensive it seems increasingly likely that the Town Council will end up running the library in it's current location with a handover taking place in 2019.
We feel very positive about this potential outcome as we believe it has the best chance of creating a sustainable library service in St Just. We are very willing to support the Town Council in providing the library service in any way we can, and envisage being involved with aspects such as volunteers, fund-raising, grant applications, and event organization.
We've got another wonderful evening planned at the library on Thursday 27th September, 7:00pm onwards for a 7:30pm start. This time we have local writer Teresa Benison, talking about how a writer can draw on family experiences in their writing. Admission is by donation, and there'll be refreshments available.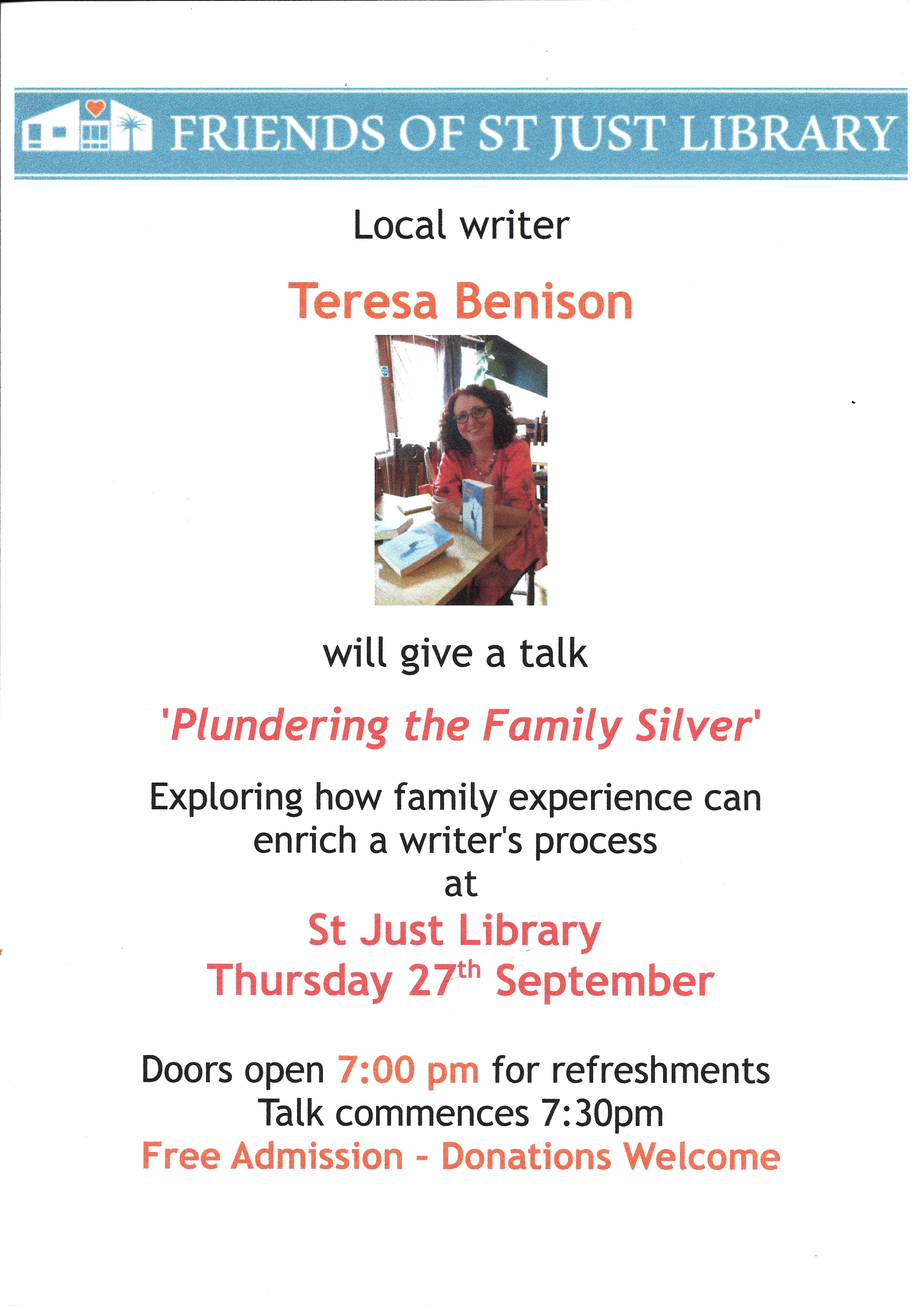 Last month we had another local writer, Victoria Osborne-Broad give us a fascinating account of the high and lows of getting a book to the point of publication, as well as giving us a reading from her first novel Chalice of the Rainbow. Coincidentally, on the day of her talk a copy of her book arrived at the library, ready to go on the library shelves — I imagine there'll now be quite a queue of people wanting to borrow it!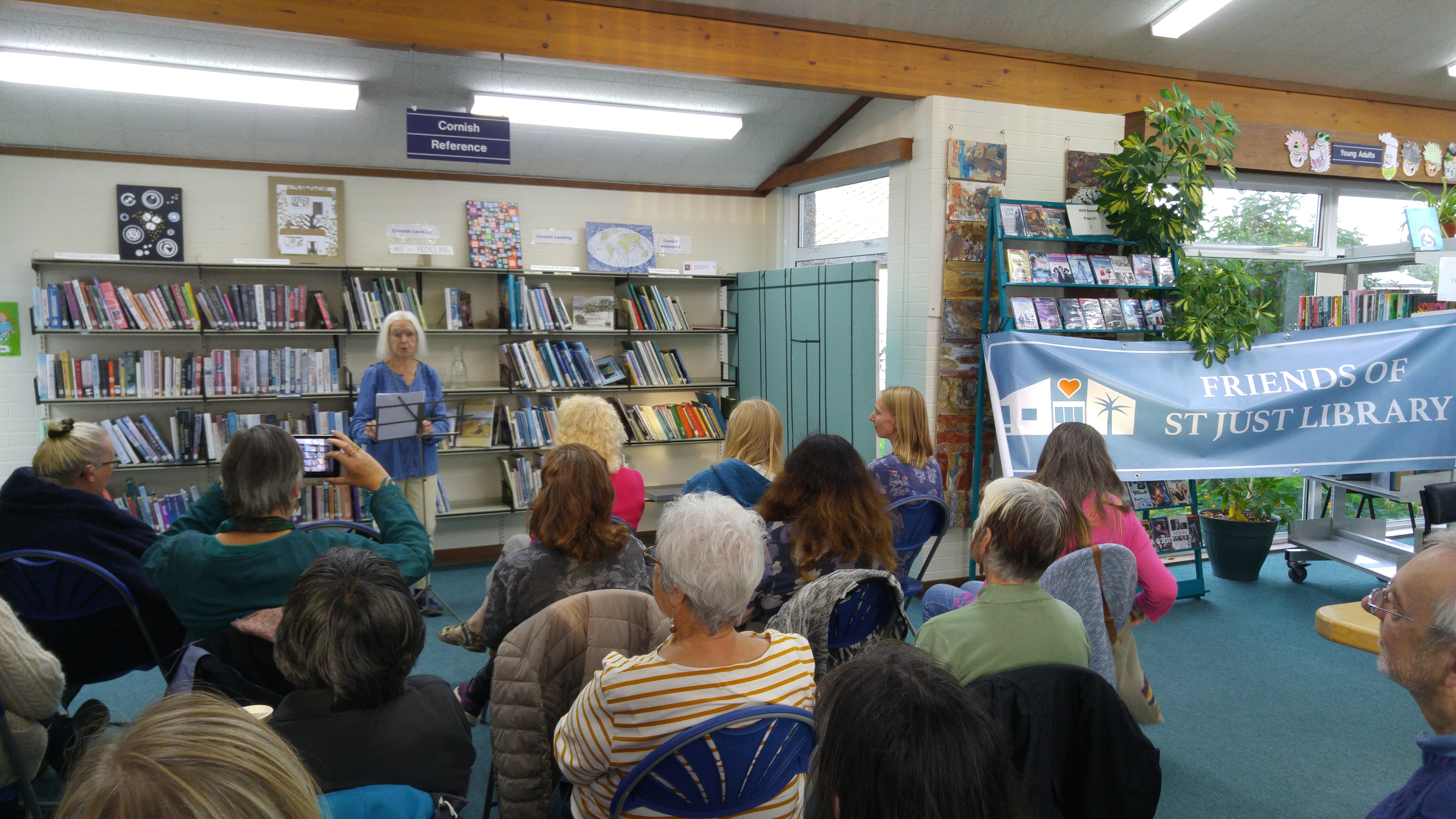 August 2018 Update
Firstly we would like to pass on an important update by St Just Town Council, regarding the library:
Announcement from St Just Town Council July 31st 2018

Following several years of discussion, the Town Council would like all residents to know that negotiations are now proceeding well with Cornwall Council to purchase the Library building, part of which will become the Town Council Office, with the remainder continuing to provide the Library Service.

There is much work to be done in the next few weeks and months, but we are hopeful that the purchase may be completed in the first half of 2019. There will be an update on Monday 3rd September at 6.45pm, open to the public, immediately before the Full Town Council meeting at 7.15pm.
If you are able to attend the meeting on 3rd September, please do so. It will be fine to leave at the end of the public update, so no need to fear having to stay for the duration of the whole meeting — just from 6:45 to 7:15. If you are not able to attend, you can send your views or your question to the town clerk, contact details here.
Fundraising
We have been busy with fundraising activities recently. On the 12th July we organised a library talk by local writer Michael Sagar-Fenton entitled Lifeboats — Inside the RNLI. Mike gave us a fascinating account of the history of our local lifeboats as well as some harrowing (and some amusing) anecdotes. The evening raised close to a hundred pounds. A huge thank you to Mike as well as everyone who attended.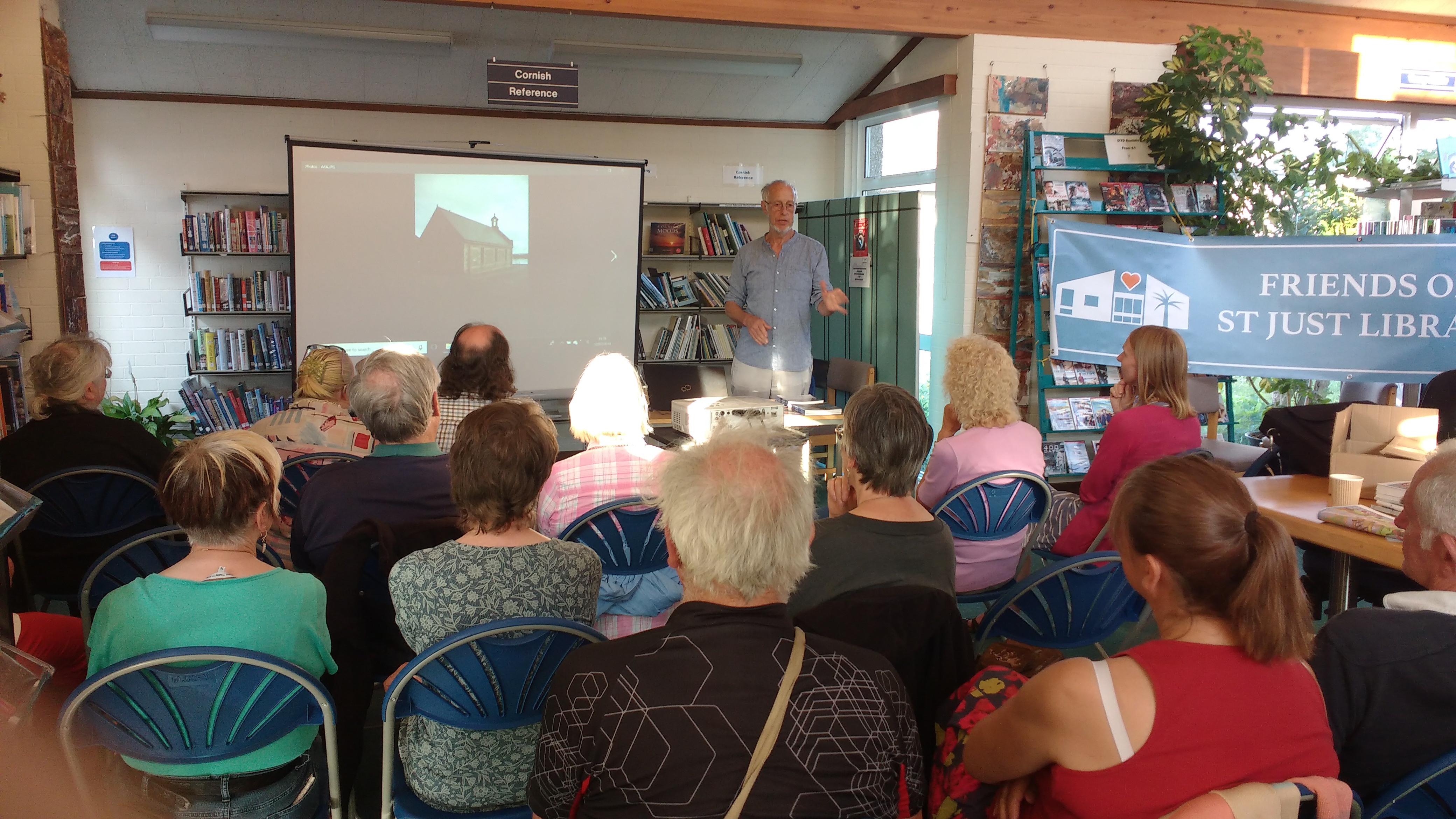 We also organised another second hand book stall outside the Co-op on the 4th August. We had many generous donations of books, and many generous purchases, leading to a total of £150. Thank you all. We are hoping to have another bookstall in the same location on August the 25th, from 10am to 12pm, so if you have any more books you're happy to part with, we'll be collecting them at the library again, and if you're short of some holiday reading come and have a browse.
Author Talk
Our next talk will be by local author, Victoria Osborne-Broad on 23rd August.
Victoria will be reading from her new novel Chalice of the Rainbow. The book centres on Gerry who moves between the 21st and 7th Centuries in the far west of Cornwall. Telepathy and time travel co-exist with smartphones and cars as the search begins for a two thousand year old chalice that bestows exceptional powers on its owner.
Doors open at 7:00pm for refreshments and a 7:30pm start. There is no charge for admission but you may wish to buy tickets in our raffle and there will be an opportunity to make donations.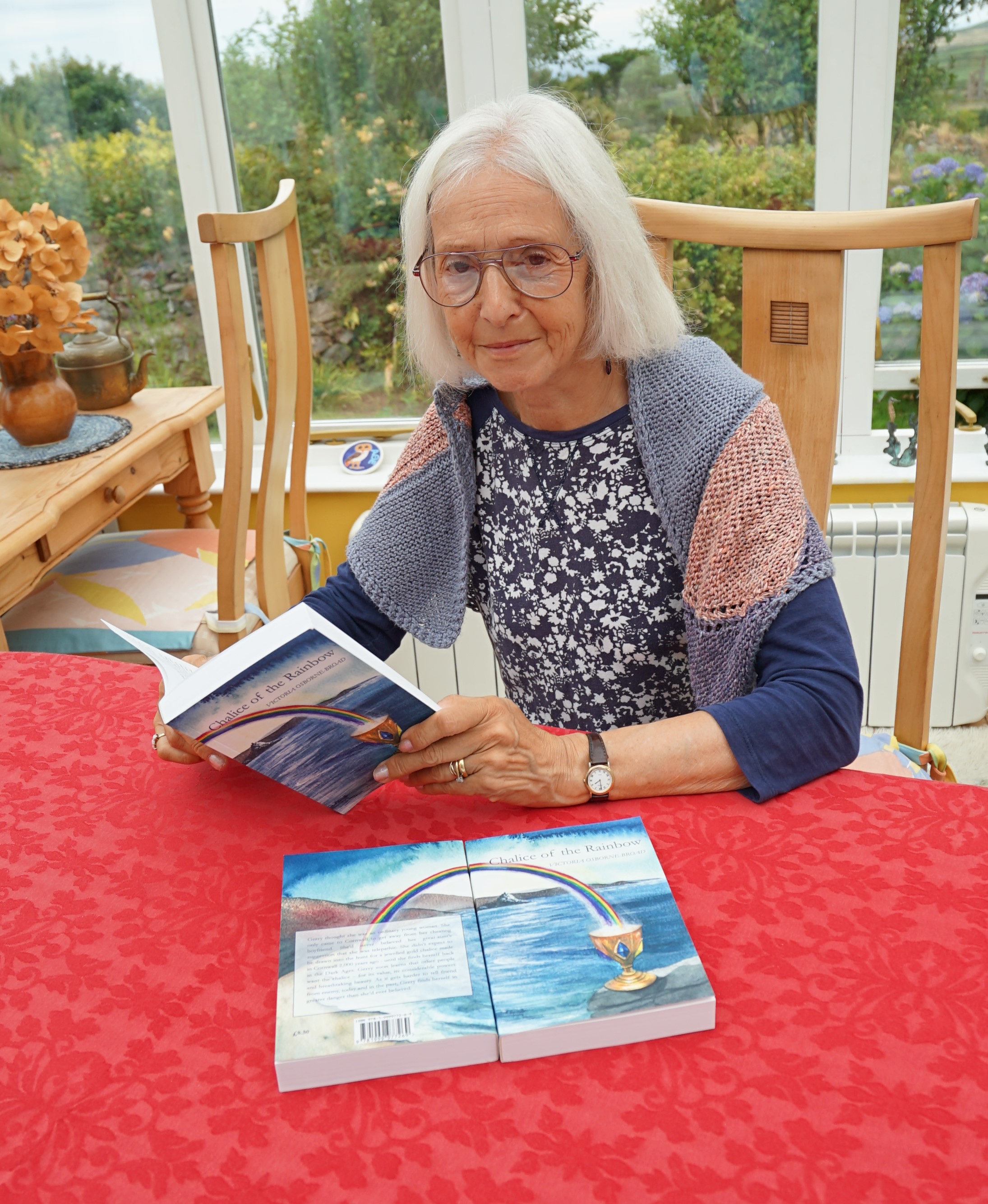 July 2018 Update
A big thank you to all who attended the St Just Town Council meeting on 18th June . It was encouraging to see so many of you there.
The Town Council agreed, in principle, to the proposal to share use of the library building for Town Council office and library services. We're hopeful that this plan will offer a sustainable future for the library. However, there is still much to be done, and the Town Council will be investigating costs and requirements over the coming months and will reach a final decision in September. St Just Community Library are keen to support the town council as much as we can during the planning process and the eventual running of the library and remain committed to doing whatever we can to keep the best library service for St Just and district that is achievable.
LIBRARY EVENT
On Thursday 12th July, local writer, Michael Sagar-Fenton will be giving a talk at the library.
Throughout his life Michael has been active in the community of West Cornwall through drama, music, community festivals, and his writing; you may know him as "Old Mike" in The Cornishman.
Amongst his published books, many of local interest, are "Penlee — The Loss of a Lifeboat" and "Penlee Lifeboat — the first 200 years". He was also press officer for Penlee lifeboat for many years, so he is well qualified to speak on his topic "Lifeboats — Inside the RNLI".
Doors will open at 7:00 pm for refreshments, admission is £2.50 by advance ticket, available from the library, or £3.00 on the door.
Please come along, enjoy Michael's talk and support your library.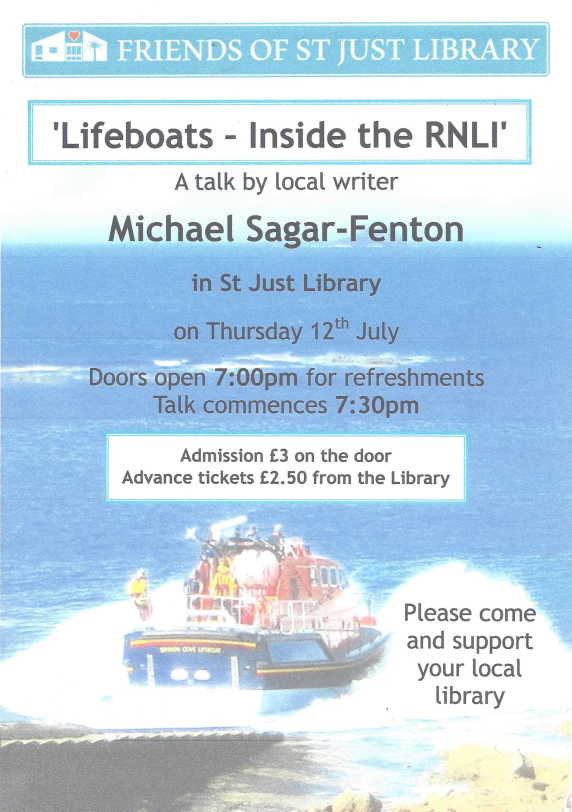 February 2018 Update
In recent months there's been some potentially very positive developments regarding St Just Town Council's position on the library. They are currently investigating the possibility of having both the Town Council and library running from the current library location, with the library devolving to the Town Council.
We support this idea and have stepped back to allow the Town Council and Cornwall Council to discuss options for dual-use of the library building. Discussions are ongoing and trustees of St Just Community Library have been invited to join the Town Council and Cornwall Council in a stakeholders meeting to discuss the way forward. The trustees remain committed to doing all we can to ensure a continuing library service in St Just and believe the existing library building is best suited for this purpose — and hope that consolidating two services in one building could make this more economically viable.
We are looking forward to organizing more events in the library this year. Abigail Reynolds has suggested a twenty-four hour reading event entitled "White Nights". This would involve readings in the library building around the clock, with themed periods, e.g. children's stories in the after-school hours and ghost tales late at night etc. Plans are at an early stage, look out for details later.
We have had volunteers working in the library for a few months now and things are going very well. Unfortunately the library is only able to accommodate seven volunteers at present but we expect to have plenty of work for all, in the future. We are still hoping to add more names to our list of potential volunteers, so if you'd like to sign up please do — there's links on the How to Help page of this website.
The trustees of St Just Community Library would also be very pleased to find the help of a particular volunteer — we are in need of a Treasurer, as our current Treasurer has had to step down. Duties are not particularly complicated at present, keeping track of a small number of items of income and expenditure and processing gift aid. This could develop into a larger role depending on the future management of the library. If you think you could help, or know someone who might, please get in touch.
November 2017 Update
The Friends' first speaker event at the library went very well last month. We were delighted to have the insightful and entertaining guidebook writer Des Hannigan delivering his talk "Should guidebook writers go to hell...?" to a packed library. The new folding chairs, paid for by grant funding, enabled us to seat almost 40 people, and between ticket sales, refreshments and raffle tickets, we took almost £150.
A really wonderful evening enjoyed by all, and hopefully the first of many such events.
Huge thanks to Des for making it possible, and to everyone who came!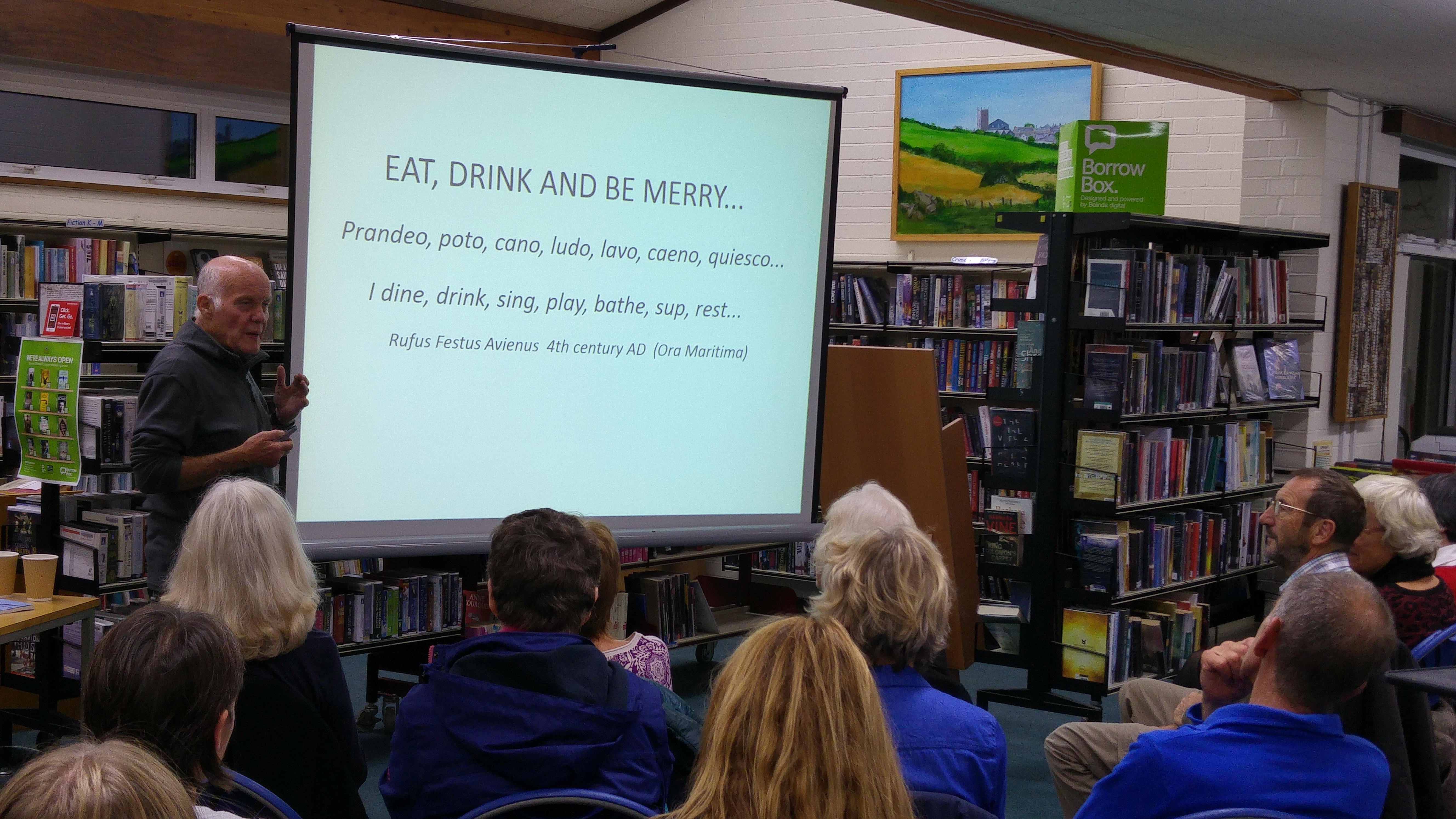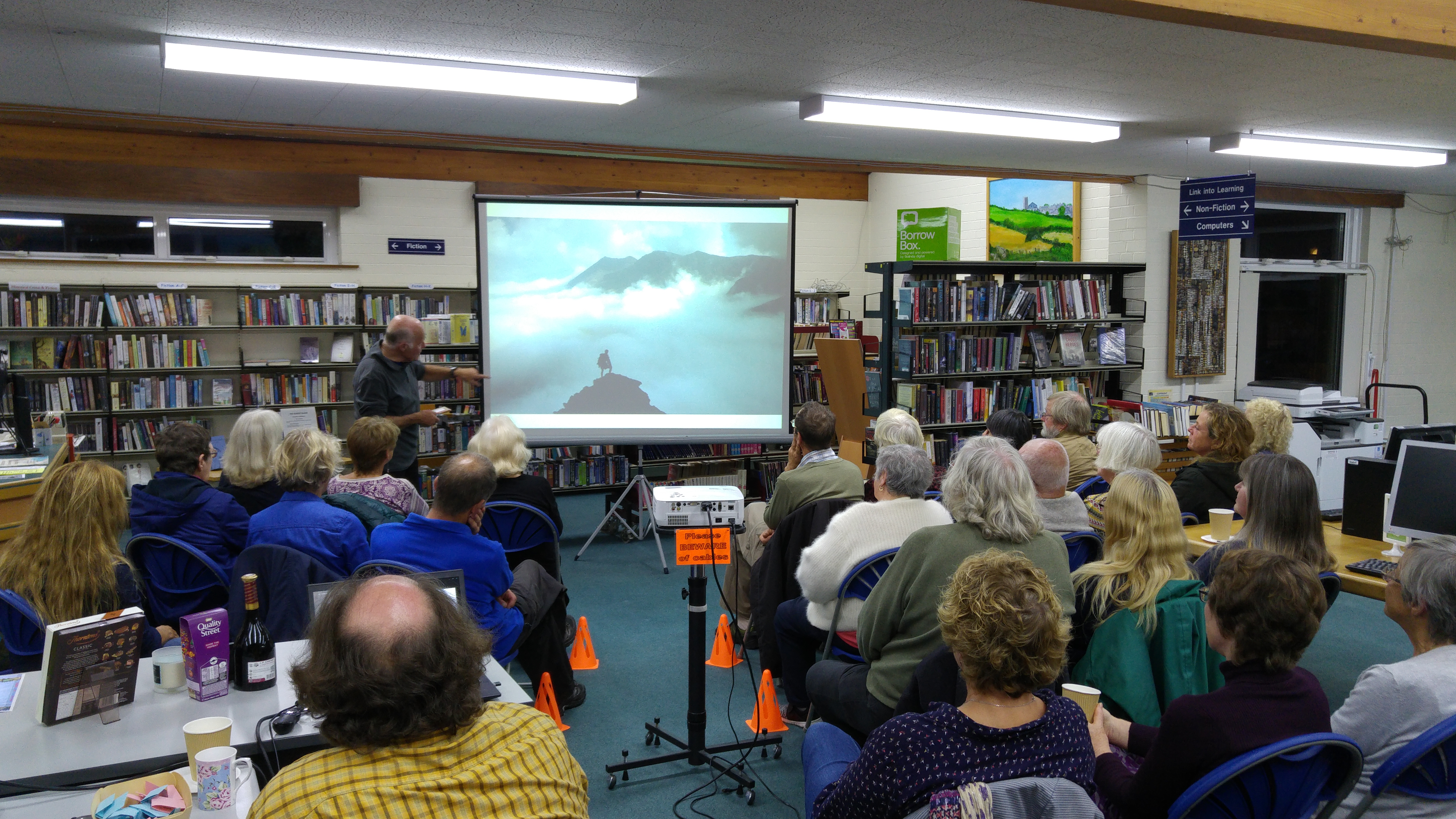 October 2017 Update
We're delighted to announce our first fund-raising event to be held at the library — a talk by Lonely Planet travel writer, Des Hannigan. It should be a fascinating and entertaining talk, and our first opportunity to put our grant-funded chairs in action. Hope to see you there!
Should Guidebook Writers Go To Hell..?
Des Hannigan
Thursday 12th October, St Just Library 7:30 pm
Veteran travel writer Des Hannigan throws a humorous and informed light on the life of a guidebook writer, and the differences between 'serious' travel writing, guidebook information and brochure blurb. Questions are being raised about the impact of tourism on the environment and on the infrastructure of famous destinations such as Venice and the Isle of Skye. Meanwhile, tourism organisations delight in flagging up TV series such as Poldark and Game of Thrones to promote such destinations as Cornwall and Dubrovnik, while guidebooks and internet travel sites proliferate.
Illustrated with colourful scenes of some of the world's most compelling locations — but none of Ross Poldark or Daenerys Targaryen...
Tickets £2.50 in advance from the library or £3 on the door
Refreshments available from 7pm
All proceeds to support St Just Community Library
September 2017 Update
Another book selling opportunity for St Just Community Library - this time at the Miners' Chapel's pew fair, on September the 9th. It was lovely to be in this awesome building, great to support the efforts to keep the Chapel as a community building, and fantastic to sell some more books to add to St Just Community Library's funds. Thank you to everyone who donated and/or bought books.
August 2017 Update
Book worms turned out in force for our August 12th book sale in the centre of St Just, enabling us to make the marvellous amount of £250! The stall was well attended all morning, which also increased public awareness of what we're trying to do at the library and and we even gained some new volunteers for our list. Thank you to the very generous folks who donated and/or bought books.
If you missed out we're having another book stall at the Methodist Chapel (newly renamed the St Just Miners' Chapel), on September the 9th, at their Rent-a-pew event. We'll be there all day with a pew of books (including new stock, after we sold so much in August). The event starts at 10am, and there'll be a wide range of things on sale on other pews, so well worth a visit. Hope to see you there!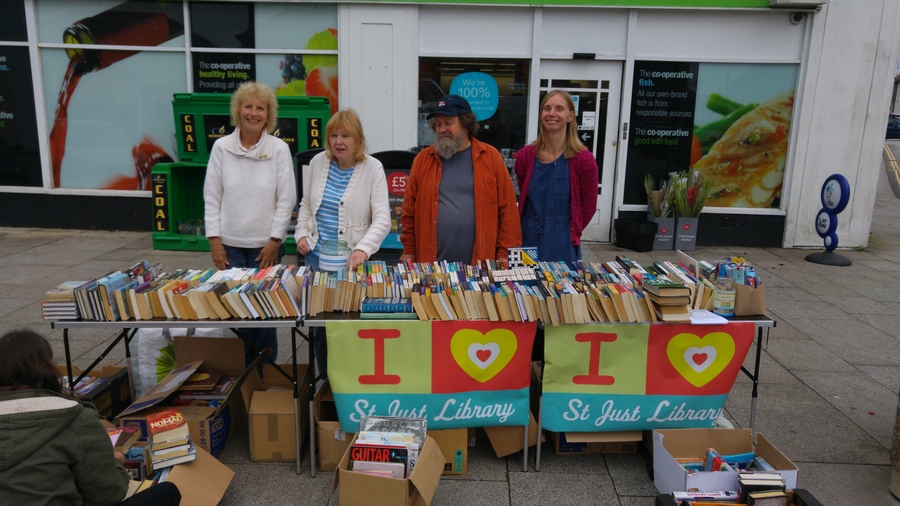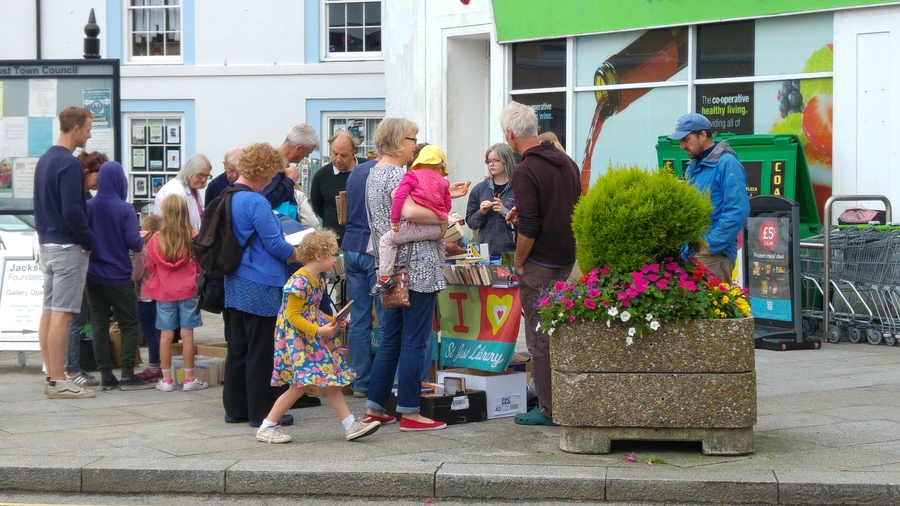 July 2017
We had an absolutely fabulous response to our request for votes in our Calor Rural Community Fund application, and managed to come 6th in our funding bracket out of all projects across the country. We couldn't be more delighted by the community's support — thank you! The top 10 projects then went forward into a final group for Calor to decide between, with two out of the ten receiving five thousand pounds. Unfortunately we weren't one of the two chosen projects, but we're still delighted to have come so close.
We were, however, successful with our application for a grant for a thousand pound from Comic Relief. We had applied for money in order to buy a trolley of 40 stackable, folding chairs which will help us to hold events at the library such as author talks etc. These events will enable us to raise further funds as well as allowing the library to start to become more of a community hub. We will be purchasing these shortly, and look forward to planning some wonderful library happenings to utilize them.
Finally, calling all bookworms, we will be having a second hand book stall outside the Co-op on Saturday August 12th, between 10 am and 1 pm, in order to raise money for the library. Please do drop by and pick up some holiday reading material — we'll be bringing a lot of books and it would be lovely to end with an empty table!
June 2017
We've had a busy month trying to publicize our attempt to gain a Calor Rural Community Fund grant, and letting everyone know how they could vote for us. We had a stall in the centre of St Just on a Saturday morning, where we gave out leaflets explaining the voting process and also created a Wi-Fi hotspot so people could vote there and then. There was a real team effort, with many people using social media, as well as good old fashioned word of mouth, leaflets and posters.
Huge thanks to everyone who took the time to vote for the library, and also to those who shared the information wider.
The voting is now over and the great news is that we successfully got through the voting stage, ending up in 5th place (out of the whole country!) for our funding bracket. Now it's over to Calor. They will choose which two projects out of the top ten (who applied for a £5000 grant) will be successful, according to a range of criteria. We all just need to keep our fingers crossed!
May 2017
We need your vote!
We have applied for a Calor Rural Community Fund grant for £5000 in order to improve the external appearance of the library (no more rotten woodwork and peeling paint!) as well as to enhance the signage.
With this grant we need to accumulate community votes in order to go through to the final stage (with the ultimate decision being made by Calor Gas). The entire process should only take you a minute or so, and as each person gets 10 votes (which they can choose to allocate to just one project) you can really help us out a lot.
In order to vote you first need to register. Go to: https://www.calor.co.uk/communityfund/about-the-fund/
Click on "Register", go through the simple registration process (including clicking the box so you don't have to receive future emails from Calor Gas), then click on "Vote for Projects". Put Cornwall into the location box to find "St Just Community Library Refurbishment" then view the details and use your 10 votes to vote for our project.
Alternatively, once you've registered you can go directly to our project using this link: https://www.calor.co.uk/communityfund/st-just-community-library-refurbishment
Only the ten most popular projects make the final short list so every vote is vital. Voting ends on 26th June. Please do share this information with anyone you think might be able to spare a minute to give the library more votes.
April 2017
What a fantastic month for the library — now we're making real progress!
Firstly the Town Council decided to approve our grant application, even giving us a thousand more than we originally asked for! They will give us £7500 per year (subject to annual review) for the first three years which we believe now makes our plans financially viable.
Secondly, with the grant from the Town Council confirmed we were able to hand in our business case to Cornwall Council. So now it's just a matter of waiting to see if they think that our plan looks sound. We're expecting to hear back from them in June.
Thirdly, we finally have a small band of volunteers helping out in the library, supporting the staff. Hopefully we'll be able to be useful as well as gaining really valuable experience.
March 2017
Since achieving charitable status in November we've been busy working on our three year budget. We've talked to accountants and solicitors, pored over meter readings, got quotes for a myriad of services, and commissioned a building survey. At the end of all this we've constructed a budget that we believe shows that our plan for a community library is realistic providing we can have some financial support from St Just Town Council. The next step is for us to present our budget to the Town Council, and keep our fingers crossed that they're willing to support us with our grant application.
One piece of great news is that we've just received a cheque for £1500 from Cornwall Councillor Sue James' Community Chest Fund. This will be a significant help in covering some of our set-up costs. Thank you Sue!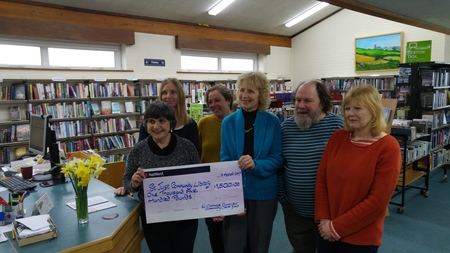 November 2016
There's been so much going on in the last few months.
After discussion at our last Friends meeting, we handed in an application to become a Charitable Incorporated Organisation, in July. After an initial lengthy wait, we're now under consideration by the charity commission. There are still a few hurdles to jump over, but we are hopeful that we will be able to achieve charitable status, as other community libraries have already done so. Breaking News: our application was successful! As of November 14th 2016, St Just Community Library is a registered charity, with charity number 1170142.
We've also been actively working with Cornwall Council to try and create a viable business plan for a community library in St Just. Read their media release from 10th November 2016.
Finally, we are delighted to now be working with RIO and their Engine Room program, which provides Social Enterprise Support to new and existing business in Cornwall. They've been working with other community groups in Cornwall who are similarly trying to create community run libraries, so we are sure they will be able to give us very relevant and informed support.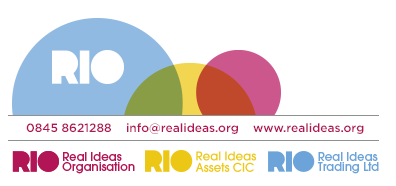 August 2016
The Friends had a second hand book stall at Lafrowda Festival in July 2016, and raised over £100. Big thanks to all those who worked on the stall, and everyone who donated or bought books.