October 2019 Update
Thanks to everyone who either attended or helped out with the White Night. Here's a detailed report to allow you to relive/catch up on all the 24 hours of goodness.
White Night
What a magnificent 24 hours it was, with truly something for everyone. Starting with the library packed full with children after school for much-loved librarian Vicky Clackworthy's story time, followed by an evening of performance, stories and poetry from local literati and creative writing groups … some extraordinarily special moments, among them Liz le Grice's library reminiscences including a hilarious anecdote involving books sliding under the brake pedal whilst driving the mobile library down to Sennen Cove one morning … Tessa Scola dancer and cabaret performer recounting finding herself in the midst of a gunfight in a club in Beirut, called 'Paradise', Lisa Coleman's reading of spooky ghost stories that genuinely made everyone jump out of their skin when there was a strange and unaccounted for noise coming from the kitchen area …
We feasted on words and literally, with Louise Tofts delicious creations to accompany her culinary readings, on into the small wee hours by way of Des Hannigan's rendition of Robbie Burn's Tam o'Shanter, recited from memory no less, learnt by rote as a boy growing up in the Highlands. From philosophy to Pilates, via Moomins and more, on we continued with our marathon readathon until dawn broke and we were treated to Breakfast Book Club, with a wonderfully laid breakfast table complete with gingham tablecloth and fresh coffee and croissants. Discussions started with favourite books, but moved on to reading generally and libraries specifically and how important they are in a world where there are precious few places where you can go to be with other people in a warm safe place and not have to spend money or talk to anyone if you don't want to. As Caitlin Moran puts it so succinctly
A library in the middle of a community is a cross between an emergency exit, a life-raft and a festival. They are cathedrals of the mind; hospitals of the soul; theme parks of the imagination. On a cold rainy island, they are the only sheltered public spaces where you are not a consumer, but a citizen instead.
Soon the library was buzzing full again with tots bouncing and rhyming and other library users arriving for the morning's programme including the small but perfectly formed Bristol Art Library. Become a member and librarian Annabel Other guides you through some of her wonderful collection of handmade books- name your interest or obsession and she will find the one for you. A truly extraordinary gem. And from the sublime to the undoubtedly ridiculous, on into the afternoon for Cornish tales followed by Demelza Up Frenchman's Creek, a Du Maurier/Poldark mash up written specifically for White Night and performed with aplomb in full costume by a cast selected from the audience. We finished on the stroke of three with great literary endings tired in body, but with our minds revitalised and our souls replenished.
As one White Nighter put it
I just wanted to say again what an absolutely wonderful thing this was - I always love St Just for community spirit and making things happen, but this encapsulated it beautifully, I haven't stopped talking about it since (once I got some sleep and could do sentences again). I felt so lucky to be there and be presented with such an array of talent and love of literature. What you organised was truly special, and I personally hope there is another one :) Also, I now have at least 6 months' ammunition to tease B about for snoring through Moomins!
So thank you to all those taking part and everyone who attended, an amazing 968 people came through the doors, there were over 50 performers and contributors, 24 hours, a score of cakes enjoyed, a wonderful dedicated team of 14 White Nighters, and of course, one library.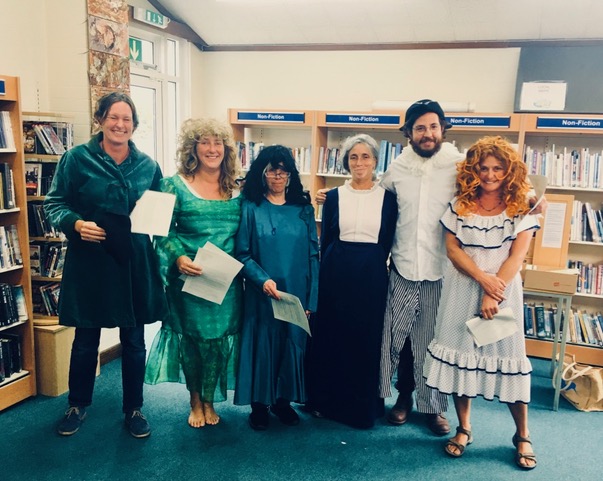 The cast drawn from the audience of Rita Nield's short piece from Demelza Up Frenchmans Creek- a Poldark/Du Maurier mix up.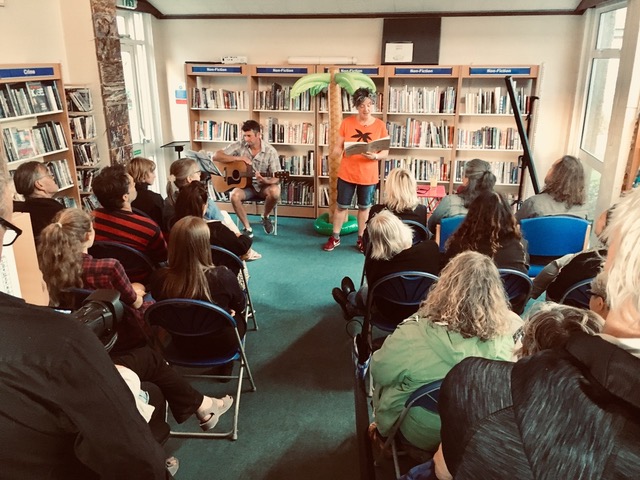 Jane Pugh's one woman show Life Girl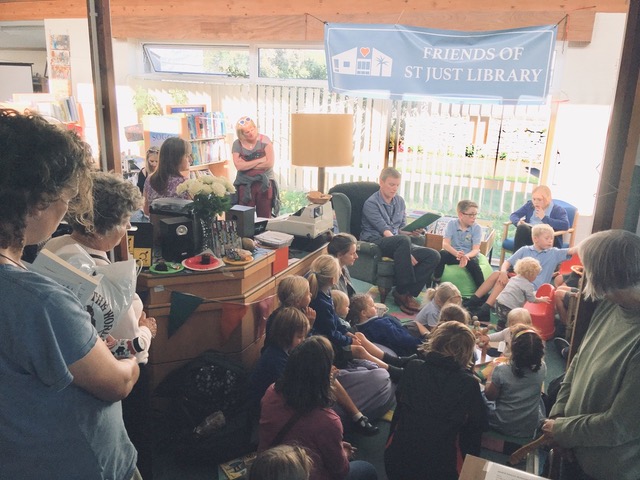 Mr Mathew